"Watch the road!" She laughed. "I am!" He said. She touched her pregnant stomach, just as some drunken person rammed into the truck. They were both fine, but the drunk man took him away from the car.
She screamed.
Chapter One
Edit
"Audrey! Come for dinner!" My mother calls.
I go down, to find the twins fighting again. I'm one of five children, and the oldest of five children. I am Audrey Leigh Cavanagh, the only child in this family not born by artificial
insemination. My dad was taken from me before I was born.
"Hey. What's the problem?" I say to the twins. "Alexis took my train!"
"Oliver
took my bear!" They say.
"Close your eyes and hold out your hands."
I switch the toys in their hands so Oliver has the train, and Alexis has the bear.
"Open." Alexis and Olver smile and continue playing.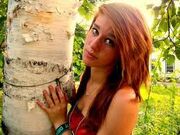 "Audrey, come set the table." Mother says. I set the table, while my sister Roseline, makes dinner with my mom.