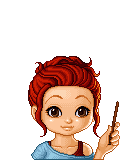 Have you ever imagined another world were people are different. Were they use magic. Well in a small city in New York City it's true.
Prolouge
"Father were are we going?!" I asked dad as he led me through the busy streets of new york.
"You are 7 correct?!" I shook my head "Then it is time to tell you." He walked in to an old ice cream shop called Sammy's scoops. He led me to the back of the room. and hopped three times on a black tile. The floor beneath us disappeared.
"Our family is all wizards." He said
5 YEARS LATER
CHAPTER 1